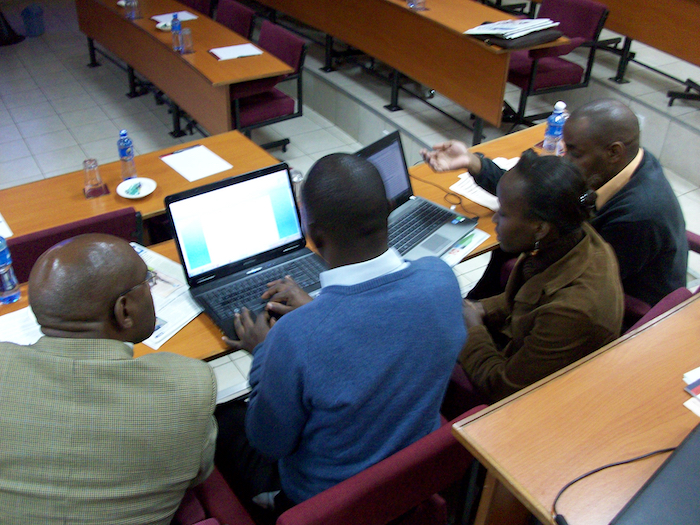 Many find it difficult to distinguish between credible and misleading content in today's digital age. With the rise of social media, false and misleading information has become more prevalent, making it even more difficult for people to tell the difference between fact and fiction.
It's the job of the journalist to try to find and present the truth, but fact-checking isn't easy. It requires a methodological approach to verification.
Because many media outlets are profit-driven, sensationalist and clickbait content frequently takes precedence over fact-based journalism. As a result, trust in journalism as a whole has declined, while, at the same time, skepticism about the reliability of information published and shared has grown.
The preference of social media platforms for engagement and amplification has contributed to the information disorder. Indeed, credible and evidence-based information is in short supply, while false and misleading content continues to spread on social media.
Because of this it is critical to have a strong fact-checking system in place to combat the spread of false and misleading information.
A fact-checker must be skilled at digital investigation and willing to go the extra mile to uncover a kernel of truth. To assess the veracity of information accurately, fact-checkers must be trained in and have access to digital tools, techniques, and resources.
Fact-checking in action
At Nepal Check, we use both human intelligence and digital tools to verify information spreading online. Over the past six months, we have fact-checked a wide range of false claims, from political statements to health misinformation.
On the eve of the November 20 2022 elections in Nepal, we fact-checked screenshots purported to be from a secret circular issued by the ruling Nepali Congress urging its supporters not to vote for Maoist candidates.
Not only was the so-called "secret circular" made up. Election misinformation spreaders created screenshots of 'news' that claimed to have been published by reputable digital outlets and a newspaper in Nepal.
We dug deep into the misinformation spreaders to find out what party they were affiliated with. We found that the majority were affiliated with an opposition party that competed with the ruling alliance.
One of the fake news reports had a reporter's byline. The claim was refuted by the reporter himself. In the fact-check, Nepal Check cited him. We also cited news outlets that claimed the screenshots were fake. In addition to relying on their statement, we checked the claims on news websites.
Finally, our investigation revealed that the Nepali Congress party's Central Working Committee had not met in nearly three months when the meeting was claimed. We also used the occasion to explain how morphed screenshots are created. In doing so, we hoped to raise awareness about the technique so that people would think twice before spreading false information.
We fact-checked videos with false claims that Gagan Thapa, the general secretary of the Nepali Congress, promised freebies if elected prime minister. Thapa is a popular politician and is often the target of misinformation. The video claiming Thapa promised free smartphones, free petrol and a monthly stipend for the elderly had circulated on social media for several months.
To debunk the claim, we needed to find the original, full version of the video. So we started by looking up the video on YouTube. We discovered a video of the political function, but it lacked the section where Thapa was quoted. However, the video provided an important clue that a fact-checker can use to conduct additional research. It displayed the event's date and location.
With this vital information, we were able to locate the event organizer's Facebook page. A further Google search led us to the full version of the video, which had been published by a local television station. We found that Thapa's statement had been taken out of context in order to spread misinformation.
Thapa had argued that while populist programs receive widespread support, they are difficult to fund. To disseminate misinformation, the video, which was more than an hour long, was edited down to a 22-second clip. We could verify this by following the claim back to its source, which is an important aspect of combating misinformation.
Human intelligence and engaging the audience
While the digital age creates opportunities for the spread of fake news, misinformation and disinformation, it also creates opportunities for fact checkers to follow digital trails in order to try to find the source and the veracity of the information being shared.
The fundamental journalistic skills of fact-checking are not new, they just need applying to the digital age. Our duty, as always, is to publish accurate, fair, objective, impartial and well-sourced information, backed by well-researched context and analysis. That has not changed. And digital tools are a massive help in the pursuit of robust and critical journalism. We just need to make sure we are using those tools as well as those who propagate falsehoods do.
All newsrooms must have a fact-checking team made up of dedicated journalists who are skilled in thorough research and diligent scrutiny in order to ensure that all information shared is a true representation of news events.
Below is a list of some of the tools Nepal Check uses, and how we use them.
Human intelligence
Research who is behind the information being spread, try to find a trail of similar information to lead you to the source.
Does the fake news item carry a byline? Does that person exist? If they do contact them. By doing so you might find a new lead in your search for the truth.
Does what is being said stand up to historical scrutiny? Research and establish the sequence of events leading up to the claims.
Digital tools
Is the evidence real or manipulated or used out of context?
Are screenshots real or fake, can you find any evidence of the original material online or in print? If not, why not? Who could have created the screenshots and why?
Is video being used? Has a clip been taken out of context? As a journalist you have a duty to search for the original, watch it in its entirety, and offer a more complete picture including the situation and circumstances in which it was shot in order to add context and relevance.
When you find the original you will also discover the date and, possibly, the location of the original material. Do these match the details in the clip?
Check all social media links back to the original source to find out what other material has been shared.
Engaging your audience
Be totally transparent in your myth-busting research.
Let those who read your journalism know the steps you took and the evidence you uncovered.
By doing so you will help them understand more about fake news and empower them with the tools to do their own fact-checking.
---