Operating a content factory delivering to multiple devices
A converged news operation offers improved quality control, more efficient workflows, cost savings, and new business opportunities.
The newsroom needs to have a central superdesk operating as the command-and-control centre for the media organisation. All the main editorial decisions will be made by those working on the superdesk.
The superdesk will be responsible for ensuring that one set of sourced, attributed and verified facts are made available to the widest possible audience on multiple devices.
The material will be created by a multiskilled production team using multiplatform authoring tools.
Convergence is essential for a multimedia news organisation.
The print, on-air, online and mobile versions of the news organisation's output need to cross-promote each other.
Each must add specific elements so that the user is able to access information on the various platforms.
It's also essential to use social networking tools for research, newsgathering, production and news dissemination.
Setting up a newsroom superdesk
Convergence is an editorial strategy issue and not a space, resource, technology or time issue. These are the most common excuses given for delaying or opposing the introduction of such a system.
It is not a nice-to-have option to be accommodated or considered by print, TV or interactive staff; it is essential for the effective functioning of a modern newsroom.
It doesn't need to be expensive. There are many open-source tools available to help media organisations introduce convergence without incurring high costs.
In my media development work, I have helped print and broadcast news organisations build converged newsrooms based around a central superdesk system in Zimbabwe, Serbia, Croatia, Guatemala, Vietnam, Malaysia, Syria, Indonesia and Georgia.
Some have a handful of staff operating in a space the size of small living room, others have large purpose-built newsrooms and employ several hundred staff.
It doesn't matter what size the news organisation is, what matters is adapting the following strategy to work for you and your audience.
Rules
All interactive elements of your output must be by-products of a converged news operation and not stand-alone and self-managed entities
The news website must display the main editorial choices made by the editorial teams in charge of your news organisation's output.
The news website must offer visitors an interactive experience that gives background information to all stories covered on air or in print.
The audience must be fully engaged in, and be able to participate in, the newsgathering and news dissemination process via embedded interactive and social networking tools on all items.
All platforms must cross-promote the others with information that helps the audience find the material you are producing and engage with your output.
No story will be exclusive to one platform, but will be available on all devices.
Benefits
News output will be consistent on all devices. This will strengthen the brand.
Centralised quality control will ensure that the content on all devices is of the highest standard.
Shared planning will ensure a steady supply of original journalism covering the issues of most concern to the audience.
Streamlined newsgathering will improve news response speed and efficiency.
There will be a reduced duplication of effort leading to savings in resource costs.
The news organisation will be able to respond to new business opportunities and will be able to produce the content from existing resources.
Workflow
All senior editorial staff need to sit together. This could be around one central superdesk, or in one area of the newsroom where they are all breathing the same news air and can hear the latest news calls.
Sitting around the superdesk in a large news organisation will be an intake editor, various output editors, a planning editor, and a resources manager. In smaller organisations staff might have to take on multiple responsibilities.
The planning editor needs to work closely with the interactive editor (I/A in the graphic below) to ensure that all in-depth, issue-led, investigative journalism is supported by fact files, timelines, profiles, and interactive features, so that these elements can be cross-promoted.
The interactive editor must make full use of social media not only to inform the audience, but also to inform the news organisation's journalism as to the needs and priorities of the audience.
All will be involved in a continuous news discussion, making one set of editorial decisions and then ensuring that the output is consistently good on all devices and that all cross-promote the other.
A sample converged workflow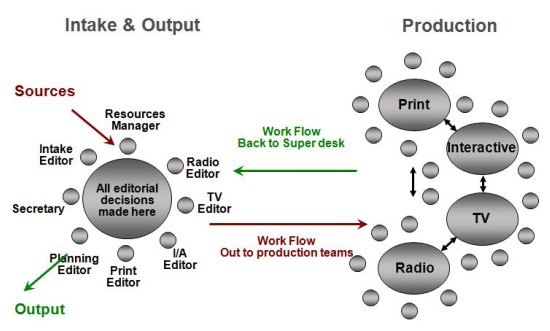 Editorial essentials
Define your news organisation's core editorial proposition. This is what you cover that others don't, or the distinctive way you cover news.
Ensure that all staff know the target audience for each platform, what that audience needs to know and how that audience uses the platforms.
Continue to educate all staff, from senior journalists to the most recent recruit, in the continuing changing audience behaviour and the ways the audience is consuming news. Never presume that this news consumption stays the same. It doesn't.
List the special sections and in-depth areas that the online version will be required to create to support the overall editorial proposition.
Work out the expected content production levels (number of stories a day and frequency of updates) so that you can manage resources effectively.
Translate this into staffing needs, hours to be covered, multi-skilling training required. All staff should be able to use all newsroom systems and the online content management system (CMS) to update all platforms.
Train staff in the writing disciplines needed to create content once so that it can be used on multiple platforms.
Technical essentials
Where possible try to use tried, tested and proven open-source tools for news production.
Install a central CMS and instruct all journalists to create their articles in it.
Consider free tools such as YouTube, Vimeo or SoundCloud to embed audio and video in articles.
Install a central database for storing content and distributing it to multiple devices.
Add social media sharing buttons to all your online pages and assets (audio, video, maps, timelines, images) so that the audience can save, share, re-use and comment.
Ensure that all journalists have a desktop social media monitoring tool, such as HootSuite, TweetDeck or any other aggregator and encourage them to watch how the audience is responding to news developments.
Design issues
The design elements that distinguish your brand must be visible across all platforms.
Your will need a breaking news tool that can be managed from the superdesk. This is so that one output editor can update all devices with one action once the news is confirmed. Make sure these connect to Twitter, Facebook and all your social media outlets.
Ensure that all your web pages are optimised so that they will rank highly in search results. This is called SEO (search engine optimisation).
Human resource issues
Ensure that all existing staff and new staff realise they are working as part of a multi-skilled team in a multi-platform news operation – you may need to look at existing contracts.
Offer training for those who need to learn new skills, but make it part of the media organisation's development rather than a personal preference.
Set corporate, unit and individual objectives defining newsroom performance targets.
All staff must work flexible hours.
Implement a rota system that ensures adequate recovery time.
Carry out workplace assessments in terms of ergonomics (whether the seats and desks are set so that they don't injure your staff).
Ensure adequate screen breaks for all computer users.
Convergence offers many more benefits than just cost saving and efficiencies in news production. It will prove a major benefit to your journalism and your media business.