Generating ideas by encouraging staff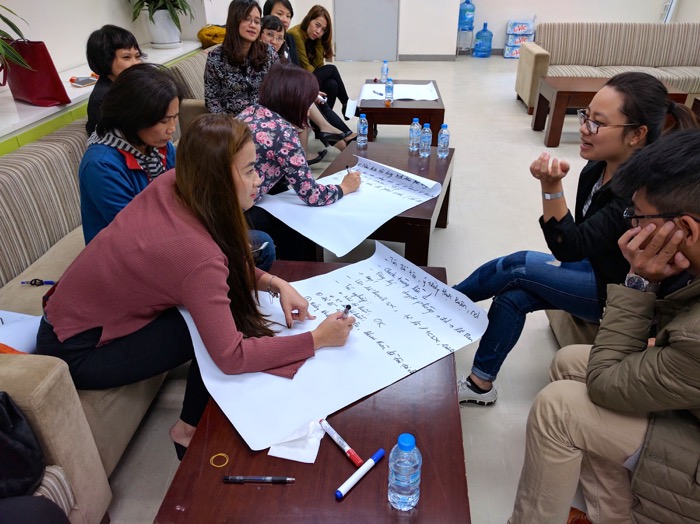 Most newsrooms hold a morning news meeting. Some hold several meetings throughout the day.
These meetings are when the editor, or duty editor on shift, organises resources, sets out what is required, gives a clear outline of what news stories are going to be covered, and encourages ideas from the journalists attending.
Copies of the news diary should be available, including the news prospects, the planning agenda, running orders of any TV or radio bulletins, and a hand-over note from the outgoing duty editor.
The news diary will list events that are in the public domain, such as news conferences.
The forward planning prospects will be about original, in-depth journalism produced to meet the needs of your news organisation's target audience. Please refer to our training module about identifying the target audience and its needs.
In a large media organisation representatives of the various sections need to attend. In a small organisation it might be possible for most staff to attend.
If the news operation has a website, a representative of the interactive team should be present along with the person responsible for social media.
Representatives of the specialist units such as business, technology, health, environment, sport etc, should attend.
Specialist staff will be expected to have prepared for the meeting by digging around stories where they might be able to add value and insight.
The duty editor should ask them what is important in their particular areas of coverage.
It's important to have someone from the design team attending the meeting. Their job will be to create graphics to illustrate stories.
Ideally graphics should be consistent in style whether used on air, in print or online. They could be graphics designed to explain a point, or they might be promotional graphics to draw attention to a story.
Allocating resources
The hand-over notes, prospects, and planning notes, left behind by the previous shift, will help the duty editor plan what resources will be needed, and what to expect from the journalists. See the training module on story weighting.
There is no point committing valuable journalistic effort to make repeat calls and carry out research that has already been undertaken by another member of your news organisation's staff.
Engaging the audience
The team which runs the interactive element of the website, such as forums, polls and UGC (user-generated content), has an important part to play in the morning meeting.
They might choose to speak last after they have heard all the ideas being floated around.
The interactive team sets up opportunities for audience engagement, and also feeds back audience responses into the editorial process.
It's in everybody's interest to run interactive features that can feed off news items and which can cross-promote those items across all platforms.
Multimedia offering
Similarly, the multimedia team will have a representative at the news meeting. They need to hear what stories are being produced and ensure that any audio and video to be used to illustrate those stories is made available online and on mobile.
Those visiting your news website might not use the other platforms on which your news organisation's information is presented. They might not watch TV, read newspapers, or listen to the radio. Your presentation of their daily intake of news on one particular device might be the only contact they have with your news brand.
That is why it is important that you don't assume they have already seen the news elsewhere. You might also have to act as a clearing house for all the other news being covered by others.
Your audience will expect you to sift through the hundreds of news stories, pick the most important 10 to 20, and present them in a way that makes sense to their lives. Please refer to our training module about creating a journalism content value matrix.
You might want to read our 50 tips for running an effective news meeting.